XENON 4 FOR PROFESSIONAL USE
Multipurpose tool designed by Raphael Celier
WHAT IS A GYROCOPTER
Gyrocopter looks like a small helicopter but the main difference is there is no engine turning the main rotor. The rotor simply self-propel (which we call "auto-rotate") due to the way that the air flows through them. It also does not have a tail rotor.
As the engine is not connected to the rotors, this means that a Gyrocopter is not seriously affected if the engine should stop in flight. This, together with a very short landing roll (we can land in a very small open space, about the size of a putting green), means that a Gyrocopter is one of the safest methods of flying.
Today, Gyrocopters are one or two-seat aeroplanes whose maximum take-off weight does not exceed 450kgs (560 kgs EASA). Modern Gyrocopters offer superb performance, comfort and above all have a safety record second to none in aviation.
The next convenient difference to a helicopter is the price. It runs on unleaded petrol.
The running cost is 80 to 100 Euros an hour whilst that of a small helicopter will be in the region of 10 to 15 times more.
MAIN DIFFERENCES BETWEEN GYROCOPTERS AND OTHER AIRCRAFT KINDS ARE THE FOLLOWING, FOR THE SAME MAXIMUM TAKE OFF WEIGHT:
| | | |
| --- | --- | --- |
| Gyrocopter | Helicopter | Fixed Wings |
| Cannot hover | Can hover | Fixed Wings |
| Cannot take-off vertically | Can take-off vertically | Cannot take-off vertically |
| Cannot land purely vertically | Can land purely vertically | Cannot land purely vertically |
| Needs its length to land | Needs its length to land | Needs a landing strip |
| Very Little sensibility to turbulences | Medium Little sensibility to turbulences | Sensibility to turbulences |
| Larger flight envelop thanfixed wings | Larger flight envelop thanfixed wings | Limited flight envelope |
| Easy to pilot | Complex to Pilot | Rather easy to pilot |
| Excellent maneuverability | Superior maneuverability | Average maneuverability |
| Easy to maintanace | Relatively heavy maintanace | Relatively easy maintanace |
| Less expensive than helicopter | Rather expensive | Slightly less expensive than gyrocopter |
| Needs more power thsn fixed wing/trikes | Needs a lot of power | Needs less power than gyrocopter |
FOLLOWING, FOR THE SAME MAXIMUM TAKE OFF WEIGHT
PILOTING A GYROCOPTER
In the table above, we state that piloting is easy. This in no way means that you can sit in one, and just take-off! Just like with any other aircraft, you will have to take lessons, and learn to pilot it. Depending on your country, your Civil Aviation Authorities may request more than what we hint below.
But, due to the fact that the gyrocopter's controls are basically identical and often simpler than those of a conventional fixed-wing aircraft, a fixed-wing pilot will usually need something like 10 hours dual training to convert to gyrocopter. Someone with no prior flight experience will need the same amount of time as he would for learning to pilot a fixed-wing aircraft.
PILOT TRAINING
The course consists of ground and flight training.
The syllabus is very flexible in order to cater for the needs of the many students with different backgrounds and jobs involved.
Ground studies involve different subjects which include Meteorology, Air Law and Navigation at the end of which is a simple examination.
Flight training consists of about 40 hours for a private pilot but more for law enforcement agencies or militaries.
FOR GEODETIC ENGINEERING
3d scaning Lidar laser made by Riegl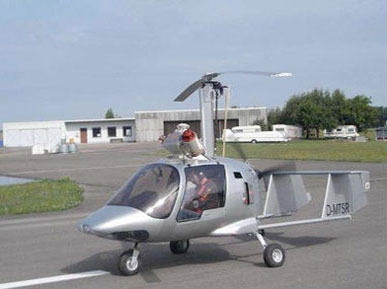 FOR SCANNING OF PIPE LINES AND ELECTRICAL LINES.
Gyro is equipped with classical camera, UV camera & recorder / transmission system
FOR AGRICULTURAL USE
Xenon can be fitted with sprayer and carry a tank reservoire for the chemical dispersant.
FOR SECURITY, POLICE & LAW ENFORCEMENT AGENCIES Eyes in the sky are ideal for Law Enforcement Agencies. Utilising the Xenon, has proved to be the best option in the World for this kind of mission. With additional sensors the Law Enforcement Agencies will have a cutting edge superiority to the rest.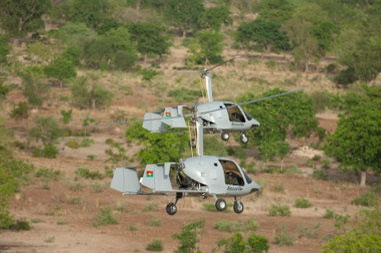 FOR OTHER SERVICES
-Xenon is the only machine that has been configured to carry a larger payload. Its flying capabilities have proved to be superior to any other competitor. The sky is the limit to your immagination of what uses you can have with such a machine.
Camera (Revolving fixed to gyrocopter) Laptop controlling camera Celier Aviation is constantly investing in research and development projects. In November 2012 Celier Aviation dedicated its R&D team in the testing of a surveillance system. The camera (Panasonic WV-SW395/WV-SW395E) was fixed direct to the gyro without any suspension. The camera was not gyro-stabilized. The laptop computer was located on the observers seat and operated by the observer. The flight control system on the passenger seat was removed. Test flights were made over 2 days.
Concept of downlink system to cloud or repeaters for the image to be seen in the Head Quarters for the decision makers. Range can be amplified to 40 Km line of sight.
Two tests were carried out one just before sunset but in good visibility and one in rainy conditions. Both tests were acceptable within the capability of the camera.
We have manufactured a table to host the laptop and joystick for the observer. Camera is also be insulated from vibration.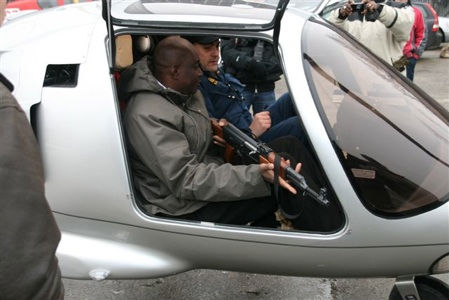 Machine Gun (7.62 mm) operated by Pilot
Grenade Launcher
Transport of Armed Military Personnel
Bullet Proof Protection against light weapon fire
"); //-->