The entry level to the mighty XENON 4 is the SPORT.
Original design by Raphael Celier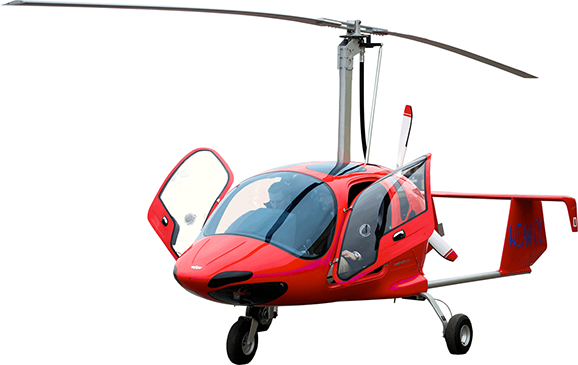 The Xenon IV Sport, is the access to a real professional gyroplane adhering to the new 560 kg MTOW regulations.
Over the last 13 years the XENON became an icon for flying qualities. It is a combination of the highest standards of safety and ergonomics design. The cabin is manufactured into a one piece monocoque structure, similar to a Formula 1 racing car, providing additional safety to the Crew. We keep things simple and effective. The Xenon 4 Sport is the entry level to your personal flying experince or an ideal and cost effective member of your flying school fleet. It is supported by a professional team to ensure after sales service and maintenance to the clients i.e. with an online parts ordering system. As well it is manufactured in an industrial manner, complying with ISO9001 procedures. The industrialization process in place, allows a high level of precision and repetitive actions. The newly designed Instrument panel has been created to correlate to professional avionics. The Cabin now offers an even more comfortable and spacious environment than ever before. In conjunction with its high cruising speed and the improved aerodynamics the new Xenon 4 could also be used for long distance travelling with ease, supporting you with a respective luggage compartment. The comfortable and ergonomically shaped seats together with the high class internal finishing ensures that your flight is pleasant all the way. The doors have been changed in Form, Size and Fixation.
(All prices and equipment are the manufacturers suggested retail prices and exclude destination/delivery charge, taxes, title and registration. Optional equipment not included. Prices may not reflect all equipment shown in images. Dealers are the best source for up-to-date pricing. Celier Aviaiton reserves the right to change product specifications and prices at any time without incurring obligations)
The XENON SPORT package consists of:
1. Full monolithic EPS cabin
2. Full exclusive interior finisching
3. Upper double windows tinted
4. Nose-feet windows
5. Complete doors (pair) with air-vents
6. Composite adjustable seats
7. Harness 3 point
8. Complete dual controls
9. Central console- throttle - prerotator
10. Flexible prerotator 250 t/mn
11. Rotor brake + park position strap
12. Battery park connections
13. Instrument Pack classic (A)
CA 912 ULS-T based on ROTAX ULS

Power Curve provided by Faston Sp z o. o. - the Polish Official Rotax Importer
The CA ULS-T is based on his previous design (the CA 912 RST) and is now universally recognized. Raphael has now updated the design for the more powerful ROTAX 912 ULS 100 HP. The entire RST (now renamed ULS-T) concept is re-designed, optimized, and industrialized. Special tooling was developed to produce the specific exhaust system with the highest quality and is now available with a special silencer (after muffler) for countries requiring lower noise. This new concept, now copyrighted, has undergo hard testing on multiple weather conditions. Engine temperatures are kept low, mainly for the exhaust which is the critical one.
This ROTAX bigger block engine (1.4 l instead of 1.2 l for the Rotax 912) can deliver much higher torque and at lower RPM. This engine has excellent reputation for its reliability. The power is deliberately limited to a max MAP of 40" delivering 145 hp. On the Xenon 4 it is limited to 39" delivering up to 135 hp, whilst max continuous recommended output is 38" providing 125 hp. On the Xenon 4 XL the engine is prepared to use the full 40" boost. There are 2 types of propellers suiting this engine configuration. These are the Kaspar 2/3 (ground adjustable) and the Kaspar 2/3 P-LT (variable pitch and electronic constant speed). In standard configuration we use the ground adjustable propeller that is set at an optimized pitch for good climb and cruise. It is simple, effective and light. The variable pitch model can be chosen as an option. The electro-hydraulic constant speed unit is actuated via a pilot friendly system. This configuration improves fuel efficiency and provides a more quiet flight. Overall, it adds 7 kg and comes with an integrated spinner.